***  Next litter due early 2024  ***
if interested please please fill out puppy Inquiry form
Puppy Inquiries Welcome ….. If you are interested in a puppy or if you are looking for a Puppy sooner, you are more than welcome to contact me as I occasionally know of other litters from responsible Breeders.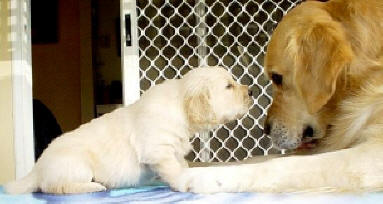 We are ANKC registered, members of DOGSSA for almost 30 years in the breed.  Also members of the GRC of SA.  Tony was president of the Gawler Kennel Club for many years as and we have both in the past served on the Gundog Club of SA and the GRC of SA.  We have been involved with Showing, Obedience, Agility, Flyball, Retrieving and Endurance with our Goldens and have titled dogs in most of these sports over the years.  We are proud to say that Brackendell have bred a number of dogs that have served as Therapy Dogs, Prevent a Dog Bite dogs and Nursing home visiting dogs over the years.
Our litters are planned with temperament, conformation and soundness in mind and our expectations are a biddable, friendly intelligent dog with working ability along with good conformation, soundness and type. As we intend to keep pups from the litters we breed we look for these qualities in our girls and the same in the stud dogs we use.
Our puppies are raised in our house in a family environment and are very well loved and socialized.
All our pups are:
Vet Checked
Wormed
Vaccinated
Micro-chipped
Our pups are sold on the *Limited Register* Pedigree and registered with Dogssa. We offer a lifetime of support to new owners and love to receive photos and to hear how the pups are going. Our pups go to their new homes with everything they will need to start a great beginning with their forever family.
To be considered for one of our puppies please fill out our Questionnaire, we generally do not open a wait list until pregnancy is confirmed.
Our breeding dogs are from good healthy Quality Australian, English & European lines and are tested for hereditary problems in our breed. Our dogs are of sound temperament. We do not breed for colour as every litter can have colours ranging in the breed standard from Cream to Gold.
Health Clearances :

Our breeding dogs are screened for the following conditions:
Hip Dysplasia (HD)
Elbow Dysplasia (OCD)
Hereditary Eye diseases – eyes are examined annually by a Specialist Veterinary Ophthalmologist
Heart disease (Sub Aortic Stenosis aka SAS) – test performed by a Specialist Veterinary Cardiologist
We DNA test for :
ICT (Ichthyosis) presents as shedding of skin flakes (much like dandruff) in affected dogs.
PRA-1 / PRA-2 / PRCD – Progressive Retinal Atrophy is a group of degenerative eye disorders causing blindness over time.
DM (Degenerative Myelopathy) is a progressive degenerative spinal cord disease.
MD (Muscular dystrophy) is an inherited disease that affects the muscles. Signs of muscular dystrophy are typically seen early in life (at one to three months of age) and they progress as the dog ages.
NCL (Neuronal Ceroid Lipofuscinosis) is a degenerative disease of the brain.
Von Willebrand's Disease Type 1 – a bleeding disorder that makes it difficult for blood to clot.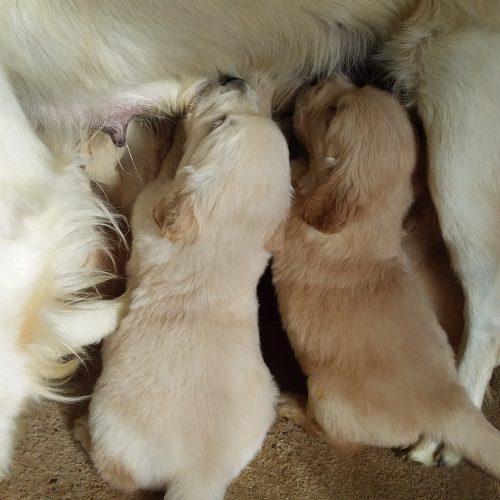 Adding a new puppy to your family is something not to be undertaken lightly. Puppies need to be fed, groomed, veterinary care, socialized, educated and exercised. They need attention and to be loved and cared for all their lives.