Aust GRAND CHAMPION
Brackendell River Song ET
(Sire: Butchfire Bequet Patrese CD NRD x Dam: Kathabara Golly Ms Holly CD)
**River**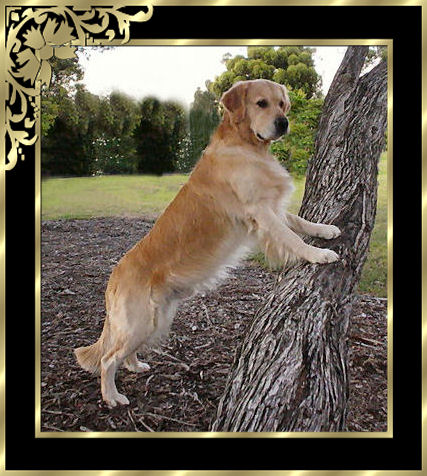 River has had so much success in the show ring from a young age and winning his first Challenge at 9 months old from the Puppy Class and finished his Championship title in the Junior class 16 months old at the GUNDOG CLUB OF SA. He then gained his Grand Champion title at the age of four. He was the 2nd and youngest male Grand Champion titled Golden Retriever in South Australia. In 2006 River was invited to compete in SA Battle of the Champions but we could not go. During 2006 River gained his ET title, and still only a young dog has achieved all this! River continued to show occasionally after 2007.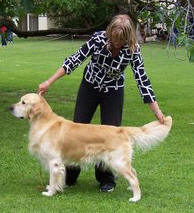 Some of River's highlights include:
BEST OF BREED – Royal Adelaide Show 2003
BEST OF BREED – Gundog Club of SA 2002 & 2004
Multi BOB – under Golden Retriever Specialists
Top Showing Golden Retriever – Gundog Club of SA 2004
R/U BEST IN SHOW – All Breed Champ Show
R/U BEST IN SHOW – GRCofSA open show
River's wins were even more special as River was home bred, owned and handled to his Aust Grand.  Along with his handsome looks he has a superb temperament to match.  River was a consistent winner in the show ring and won under International, Interstate and Specialist judges and we would like to thank them all for awarding our super boy.  River lived a wonderful long life passing away in my arms at only one month before his 16th birthday, we were so honored and grateful to have you in our lives my sweet River you will never be forgotten.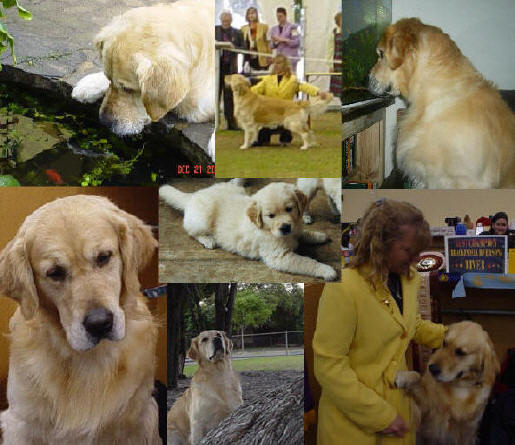 Aust Champion Montego As You Dream
(Sire: NZ & Aust GRAND Champion Yellowfetch As You Do  x Dam: Aust Champion Montego Miranda CDX
**Sammy**
What a beautiful girl Rosemary Easton (Montego) sent me she was not the pick girl but  I didn't care I loved the lines and wanted her !  Sammy was a joy to show she just had the wow factor, she just loved the show ring.  As well as winning constantly in the show ring she was a sweetheart with an adorable cheeky side.  Sammy was always having fun and made me laugh alot with her antics.  Gone but never forgotten my Sammy x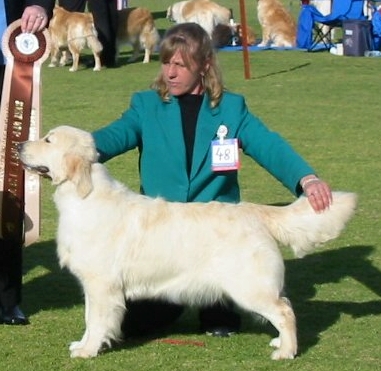 2007 GRCSA Championship Show –

  Judge Mrs Elizabeth Keene (UK) Shinehill Kennels – 2nd Braithwaite's 'Ch Montego As You Dream' Another soundly constructed pale cream girl with an eye catching
outline, super head with feminine expression, excels in forehand, elegant reach of neck, good bone and feet, well sprung ribs, firm topline held on the move, moved soundly front and rear
GRCSA 2004 Championship Shows –
Judge Mrs Margaret Hean (New Zealand)  – Best Op Puppy – 1st . Montego As You Dream – Beautifully balanced puppy with a lovely outline. Deep body, nice neck, level topline good angulation front and rear. Moved freely.

Aust Champion Montego Mity Classy CD ET QC
(Sire: CH Montego Phantom Opera x Dam: Goldtreve Camrose Belle)
"Danny"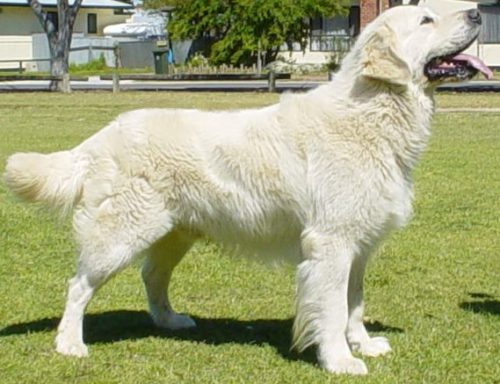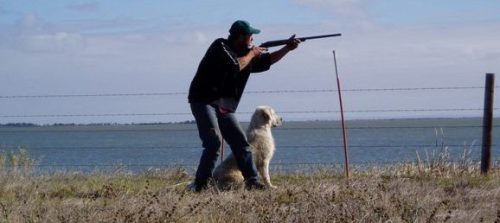 Dear Danny,  Tony's best mate even going to work with him alot of the time.  Danny was a fabulous dog thank you Rosemary Easton (Montego) this boy was an absolute credit to you.  Danny with his big head, big coat and big personality was just lovely.  Along with being a great looking dog and gaining his title in the show ring, he was smart and achieved his obedience and Endurance titles along with doing retrieving with his best buddy Tony.  Danny's first time out in Retrieving he along with two other novice competitors achieved a First Place and won the Novice Retrieving Team Cup with Danny winning 2nd place overall in Novice attaining his QC.  Danny also produced beautiful pups – big fluffy teddy bears with lovely temperament with most of them living well into  their teens.  Danny is still in most of my pedigrees  and I hope to keep producing dogs as lovely as this boy.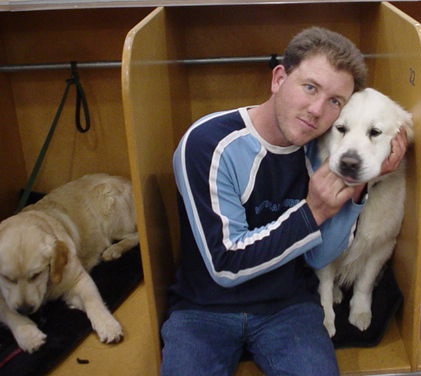 Brackendell Idaho Sunset CD ET
(Sire: Butchfire Bequet Patrese CD NRD x Dam: Kathabara Golly Ms Holly CD)
"Ivy"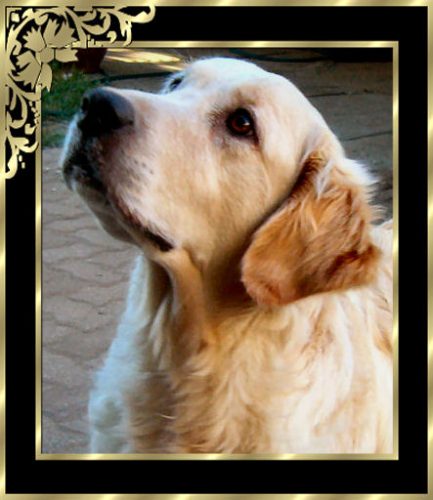 Ivy was the darling here at Brackendell, what a sweet girl she was a take anywhere dog and was at home whereever she went.  Full litter sister to River she did well in the show ring winning 3 challenges and a number of res challenges but enjoyed obedience more.  At her very first trial Ivy won Most Willing Worker and her first leg of her CD title. She also won 1st place in Novice Obedience at the GRC of SA Champ show restricted trial and Top Obedience Bitch 2004 GRCofSA.  She then finnished her CD title with 7 week old pups at home!
Ivy had 3 litters her first and third to our lovely Danny and her second was to CH Lawnwoods Rustic Rian UK (Imp UK) – Buffalo Knls.  All lovely pups with such a sweet nature with some of her pups doing well in the show ring below:
Chance ** Brackendell Happy Chance** won Best Puppy In Show and Best of Breed gaining a 25point challenge at the Gundog Club SA (Judge: Mrs J Weekes and Best Puppy In Show at the GRC of SA Open Show (judge: J Bryant and Best Opp Minor Puppy In Show at the GRC of SA Champ Show (Judge : Mr B Lane (UK) CRITIQUE: Lovely minor puppy dog.  Good front neck and shoulders.  Super angulated front and aft.  Nice adequate bone.  Tight feet, lovely topline and tail set firm on the move.  Moved well.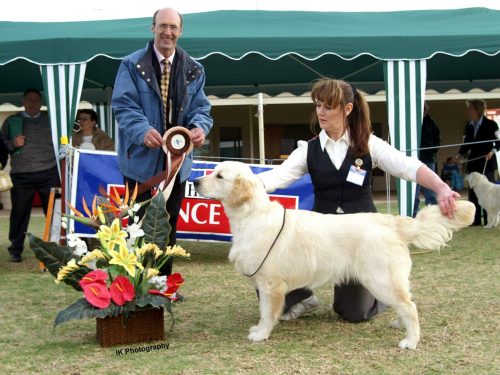 Fable ** Brackendell River Fable** also did very well in the show ring at the Adelaide Royal Show 2007 won 1st Place Intermediate Bitch and won a 2nd Place Minor Puppy Bitch at the GRCofSA Champ Show (judge: Mr B Lane (UK) CRITIQUE: Another nice bitch, same applies preferred head of winner, super condition and moved really well.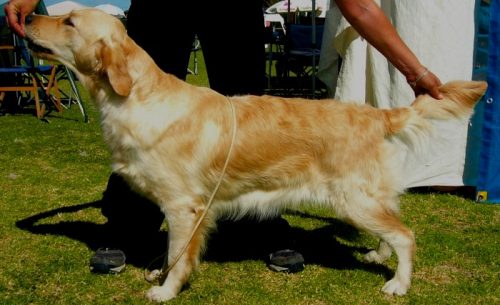 Song **Brackendelll River Melody** Song's won her first challenge with a huge 25 points and Best of Breed and Best Junior in Group on the day.  Her notable wins in the show ring was a Best Puppy in Show and Best Junior in Show , she also won multi Junior in Group wins as well.  Song was half way to her title by 14 months old when we took a break from showing.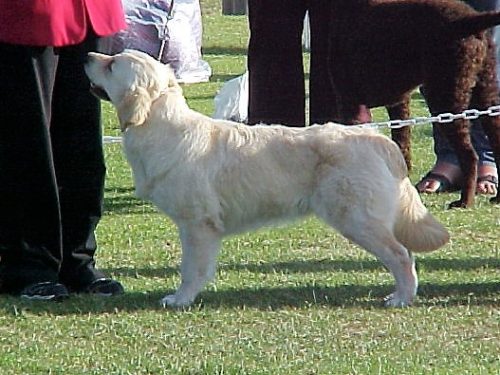 Mossman Daintree CD CDX AD
(Sire: Whycarlen Amazon x Dam: Corngolds Candy)
"Forrest"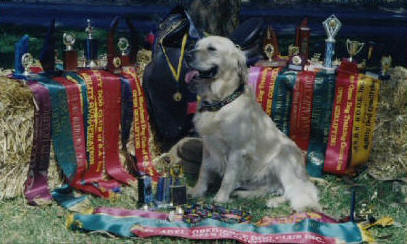 Forrest just loved to please and rarely had to be shown an exercise twice and like all true Golden Retrievers loved to retrieve anything. I was interested in Obedience and joined the Gepps Cross Dog Training Centre and during our time there at the Club Annual Awards won the Best Handler Award, The Perpetual Trophy and The Toby Award.
In 1997 Forrest and I began trialing for his Novice Title and in no time at all Forrest had his Novice 'CD' title next came his 'CDX' title and an Agility 'AD' title as well! Forrest placed nearly every time he passed in the Obedience ring and ended his career on a high at the Dover Garden K & O Club trial winning the Highest Scoring Dog In Trial, Highest Scoring Golden Retriever and a First Place from the Open Class, the judge was Mr D Rumble.
His time in Agility he really enjoyed as well and took no time at all to learn this sport, along the way winning a team trophy (the other members of his team were Shelties) and he also gained one leg of his ADX title.
Sadly my Forrest was diagnosed with heart disease and spent his last years by my side. Forrest lost his battle in June 2003 which was a devastating loss. He was only 8yrs old. I will never forget my special boy and he will always be in my heart and never forgotten…….my best mate forever!!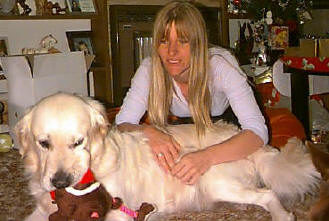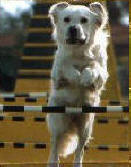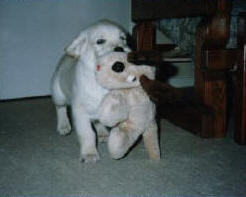 Taumac Golden Casanova ET (ai)
(Sire: Glennessa Playboy (UK) x Dam: Taumac Gold For Riley)
"Casanova"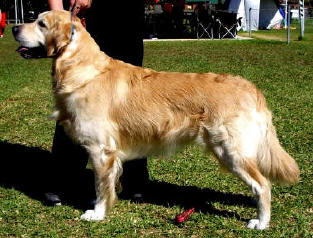 Cas was bred by Patricia and Roger Bridgeford of Taumac Kennels in Victoria and we are so grateful to them for allowing him to join our family.  Cas was bred from a mating using frozen semen from his sire Glennessa Playboy (UK) who passed away many years ago in UK.  Cas's breeding goes back to some very influential lines  including Glennessa, Camrose & Rossbourne
Cas has won classes in Group and  his first Res. Challenge from the Minor puppy class with 3 x Best Minor in Group and  **BEST MINOR IN SHOW** on the same weekend (all breeds champ show) .  Cas won his first Challenge from the Intermediate class.  He is such a handsome very solid boy with an outgoing happy personality and a very big heart.  GRC of SA Champ Show 2003 – Judge: Mrs W Andrews (UK) – Braithwaite's Taumac Golden Casanova very well presented puppy so full of confidence.  In good coat and moving well.  Gentlest of heads and expressions.  A little straight in stifle.

Cas gained his **ET title**  at the GCSA 2005  and  ***Fittest dog in the Test***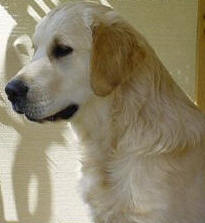 Taumac Gold For Carol
(Sire: Taumac Gold For Klim x Dam: Taumac Golden Cullen)
"Swift"
Swift always has a toy or whatever else she can manage to find, sometimes three toys in her mouth at once!  She is quite a character and puts a smile on your face watching her she can stand up like a kangaroo her balance is fantastic.  From limited Showing she has won in Group Awards and her first Challenge came from the Intermediate class. After almost a years break Swift returned to the show ring in Oct 2005 winning Challenge Bitch, R/U BOB and Best Aust Bred in Group (all breeds) and her next show winning Best Opposite Aust Bred In Show – Golden Retriever Club of SA (open) Show.  Swift was bred by Taumac Kennels in Victoria and we will forever be grateful to Roger and Patricia (Taumac) for allowing us to have her.  Swift placed 3rd baby puppy bitch in the GRC of SA Champ Show 2003.  Judge: Mrs W Andrews (UK) CRITIQUE: Braithwaite's Taumac Gold For Carol – Another nice one showing promise for the future.  Good head, coat and condition.  So well trained and showing like a veteran.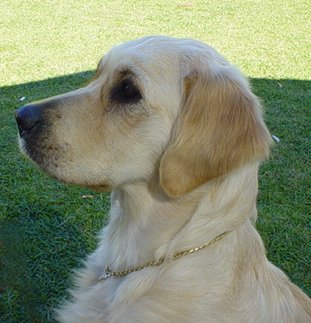 Copper CD FD
(1997-2007)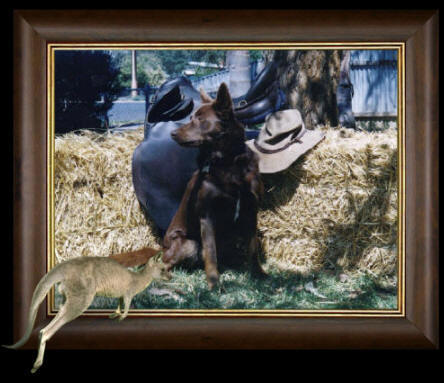 "Copper" was a gift from my Mum for my Birthday, I wanted an Australian Kelpie.
Copper grew up thinking he was a Golden Retriever and we never had the heart to tell him he wasn't!  He was such a laid back boy that we strolled through our Obedience work and when we finally decided to enter a trial we got our "CD" title, Copper was 5yrs old (we were in no hurry). Copper and I had a great time doing Flyball, probably the only time Copper showed real enthusiasm about anything! The first thing he did was christen the Flyball box……..(by lifting his leg on it!) A bit embarrassing but when we got over that he did well gaining his FD title at the Adelaide Royal Show.
Copper was a great "teacher" to our golden pups and mates with all our Goldies, he had the perfect temperament and was always friendly with everyone he met. Always ready for a game or just sitting quietly beside you knowing instinctively what mood you were in. 
He was the best!
Copper was my best friend and so loyal.
Very Spoiled and Very Loved  and will be Greatly Missed by Emma-Lee and all at Brackendell.
I ONLY WANTED YOU

They say memories are golden
well maybe that is true
I never wanted memories,
I only wanted you.

A million times I needed you,
a million times I cried.
If love alone could have saved you
you never would have died.

In life I loved you dearly,
In death I love you still.
In my heart you hold a place
no one could ever fill.

If tears could build a stairway
and heartache make a lane,
I'd walk the path to heaven
and bring you back again.

Brackendell River Melody
(Sire: CH Montego Mity Classy CD ET QC x Dam: Brackendell Idaho Sunset CD ET)
"Song"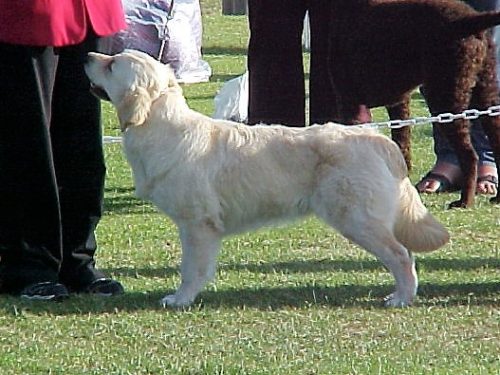 My sweet little Song had the most wonderful happy outgoing personality.  Song we began showing her from the puppy class at around 9 months old.  She has won her class many times and won reserve challenges & classes in Group.  Song gained her first Challenge which was a big one with the max. 25 points Best of Breed and Best Junior in Group on the day, she was almost half way to her show title at only 14 months old.  Song produced for us some stunning sound pups.  Some of Song's girls have done well so far in the show ring with Folly winning opposite minor in show at her first show and  Reva (WA) and Gidget winning their classes at their first specialty championship shows under UK breed specialists!! This girl stole my heart I just loved her so much and still miss her. 
***BEST PUPPY IN SHOW  – Golden Retriever Club of SA Open Show APRIL 2005***
***BEST JUNIOR IN SHOW  – Golden Retriever Club of SA Open Show OCT  2005***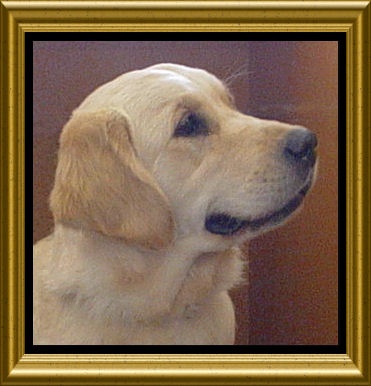 Brackendell River Sonnet
(Sire: Piqueace Piccolet x Dam: Brackendell River Melody)
"Gidget"
Gidget was a stunning girl very much like her dad Piper and has her mums happy go lucky personality as well.  Gidgy was a quiet layed back girl and enjoyed nothing more than watching Tony work around the paddock.   Gidgy has only been very lightly shown so far as she does not enjoy the show world so only went to a few shows.  Gidge produced small litters but every puppy was quality, I am very proud of this lovely girl. She lived almost 15 years and only giving up when my Tony passed away, I am sure it was from a broken heart. I miss you sweet Gidget x

BEST JUNIOR IN SHOW – GRC of SA Champ Show 2007 – JUDGE: MRS ELIZABETH KEENE (UK) (SHINEHILL KENNELS)  Critique: 1st Braithwaite's 'Brackendell River Sonnet' 14 months is developing nicely, very pretty pale cream with an impressive outline, excels in forehand with super quarters to match, level topline, excellent head carriage, moved with drive front and rear.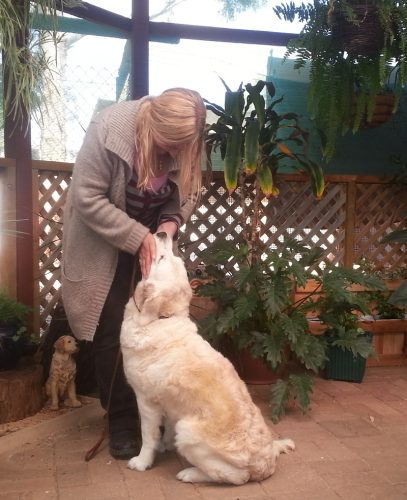 Brackendell River Max
(Sire: Aust CH Acacian Special Event x Dam: Taumac Gold For Carol)
"Max"
Max was sold as a pup to a fantastic family and we used to have him for holidays when his family went away.  He had grown into a lovely dog and quite the character full of fun.  So we organized at 6 years old to get his testing done which came back great.  He gave me my lovely girl Brienne who produced some gorgeous pups especially our special litter using frozen semen from Taumac Golden Retrievers.  Max only passed away last year at the age of 15.5 years old and was his bossy old self right up until the end !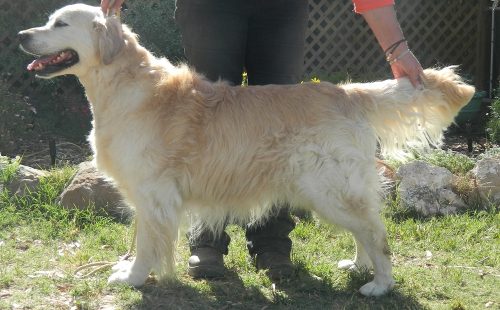 Brackendell Within Reason
(Sire: Aust CH Montego Mity Classy CD ET QC  x Dam: Aust CH Montego As You Dream)
"Teddy"
What a lovely girl Teddy was, I knew I was going to keep her very early on as she was like a fat little round Teddy bear.  She had an amazing coat that was so thick and wavy and she had the sweetest temperament as well. We had bred Teddy especially to go to our boy River but sadly Teddy suddenly collapsed and passed away in my arms at just 4 years old.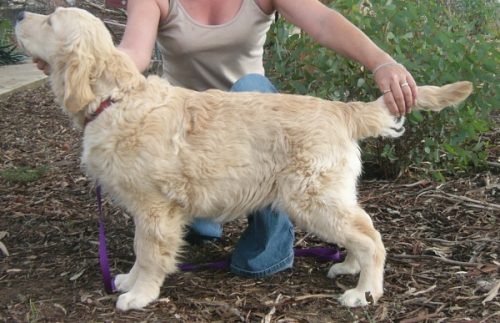 Kathabara Golly Ms Holly
(Sire: Mercian Sir Murdoch x Dam: Ahdor Song O Australia)
"Holly"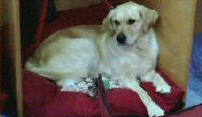 Holly was the first female dog I had owned and was only shown a few times which she won a 19pt Challenge and a few R/U BOB's but she did not enjoy the show ring so I thought we would have a go in Obedience. Holly enjoyed this a bit more and gained her CD title. Holly had a very soft gentle temperament and always loved to accompany me on Nursing Home visits and going to the Pet Expo each year where she could be the center of attention with lots of people cuddling and patting her. 
She produced for me my first litter and had five puppies with two of them gaining titles, they are :
Aust Grand Ch Brackendell River Song ET
Brackendell Idaho Sunset CD ET
and a grandmother to in all breed and specialty class in group/in show winning grandchildren including  Brackendell River Melody & Brackendell Happy Chance who were only shown a few times.  Holly retired and was a loved and treasured family member of Deb Kelly and family.  She loved visiting Once Upon A Pet with her best mate Matt on Saturdays, where she spent the day have cuddles and pats while Matt worked.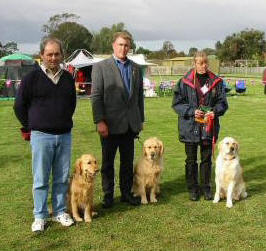 Golden Retriever Club of SA Championship Restricted Obedience Trial 2002.
Jane & Holly (left) 2nd place in the Novice bitch class.
 Ollie (our rescue boy) and Tony (center) winning 1st place in the Novice dog class